Hydraulic & Direct Drive Doors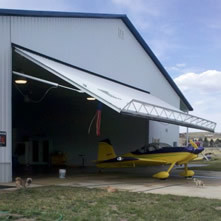 Aviation Hangar Doors
These hydraulic doors have a simple, strong design with less moving parts, and when moving airplanes in and out, the pilot does not have to fight with an older style of hangar door. Airports also have height restrictions and these hydraulic doors save money by keeping a low-profile building that accepts these hydraulic door types.
Agriculture & Commercial Doors
If you're moving large farm machinery or other equipment in and out of storage, a hydraulic door is the right choice for your commercial or industrial application. Forward Door of New York can install and repair any of these large hydraulic doors manufactured by leading companies such as ASI Technologies and Schweiss.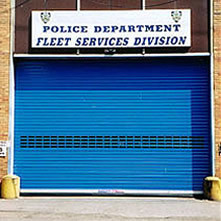 Direct Drive Doors
Direct Drive overhead doors are designed for large openings and have features such as high speed, high cycle, and direct drive operation. These direct drive doors are perfect for entryways that require high security, quick access, and reliable performance such as with police precincts, bus stations, parking garages, and railways.
If you'd like to learn more about our hydraulic & direct drive door installation or repair services or products, contact us by phone or email, or fill out the "Request A Quote" form at the bottom of this page.