Jail & Detention Equipment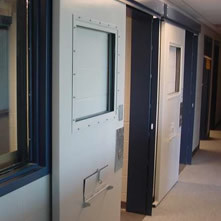 Sliding Prison Doors
Forward Door of New York can install, service, and maintain, a full range of maximum security prison sliding doors and door locking devices for prison cells or corridor doors. They sliding prison doors can be manually operated, electronically operated by a chain drive, or by a rack drive.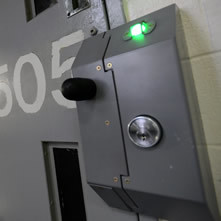 Latches, Locks, & Accessories
We can install and repair a wide array of electro-mechanical, mechanical and pneumatic latches and locks for prison cell doors, sallyports, corridors, or entrance doors. Forward Door of New York can also provide a diverse selection of maximum security door pulls, prison hinges, head and foot bolts, door position switches, magnetic switches and more.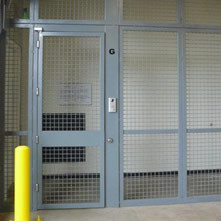 Security Mesh & Bar Grating
High security mesh partitions, doors, and ceilings allow for a clear site line for observation of inmates while maintaining security. We can install high security mesh as doors, partitions at holding cells or at recreation areas, and for ceilings over outdoor recreation areas. We can also install jail bars and bar grating.
If you'd like to learn more about jail and detention equipment installation and repair services or products, contact us by phone or email, or fill out the "Request A Quote" form at the bottom of this page.